I currently have 10 external hard drives hovering around my computer. One of them used to be an internal hard drive, but it was PATA, and my Jmicron PATA controller does not play well with OS X when memory usage goes over 3GB. Don't ask me why. It causes regular kernel panics. So now it's an external drive.
I was getting frustrated with having system drives full of junk and having to constantly shuffle stuff between drives, so I went to J&R yesterday intending to get one of the new crinkly 1 TB Lacie D2 Quadras.
But instead I was seduced by the Western Digital My Book Studio Edition II

It's a RAID 0, with two striped 500 GB hard drives inside. I've never had a RAID of my own before and I wasn't anticipating the ridiculous speeds I would get. Using the AJA Kona System test I get 125 MB/s on the eSATA connection. That's fast. I have firewire 400 drives that go around 20 MB/s. And it was really cheap: only $280 for a terabyte!
I've been suspicious of the My Book drives in the past. They're so aggresively priced it makes me wonder what they're skimping on. But Western Digital has been making hard drives for a long, long time. Sure, I've had several of their internal drives fail on me, but never without any warning, and it was probably my fault for having bad case ventilation. I never ended up losing any data.
Now I have room to organize everything the way I want it. Naturally with a RAID 0 I'm not putting critical files on there, but I have all kinds of HD media that often needs temporary storage and that's where it will live. Copying from SATA or eSATA drives to this new one is extremely fast. As far as I'm concerned, eSATA is the future and everyone needs to embrace it right now. Firewire: you're on notice.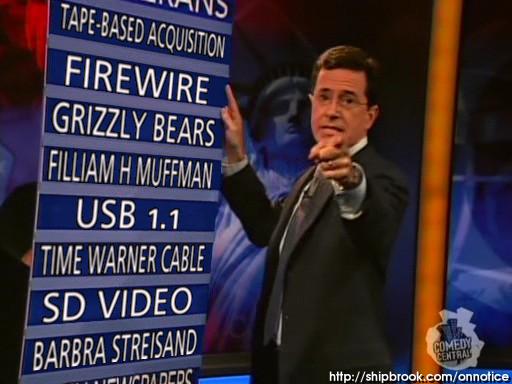 Now I just need a few extra eSATA ports. 4 isn't going to cut it much longer.