Takedown Notice! — In Which I Enforce My Copyright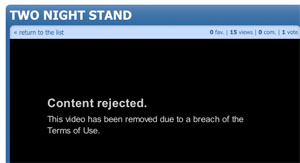 10 minutes ago I got a Google Alert letting me know that Two Night Stand had been posted on Dailymotion. I went to the page, and the movie was there, posted by someone else. Now, I give that movie away to anyone who wants it, and Dailymotion seems like a fine place to have the video posted, but I don't want it posted under someone else's username. That's re-distribution, and I don't cotton to it. It's nice that this person is interested enough to share the movie, but you can do that by embedding the video from any of the dozen or so sites where the film is legally available.
So I sent my First Takedown Notice Ever. Dailymotion has a very easy to find form and I told them I wanted my movie removed. I got an email back within a minute or two letting me know it was gone from the site. I checked, and it is indeed removed. I was really impressed. Thanks Dailymotion!