Big Update to My Video Embed & Thumbnail Generator WordPress Plugin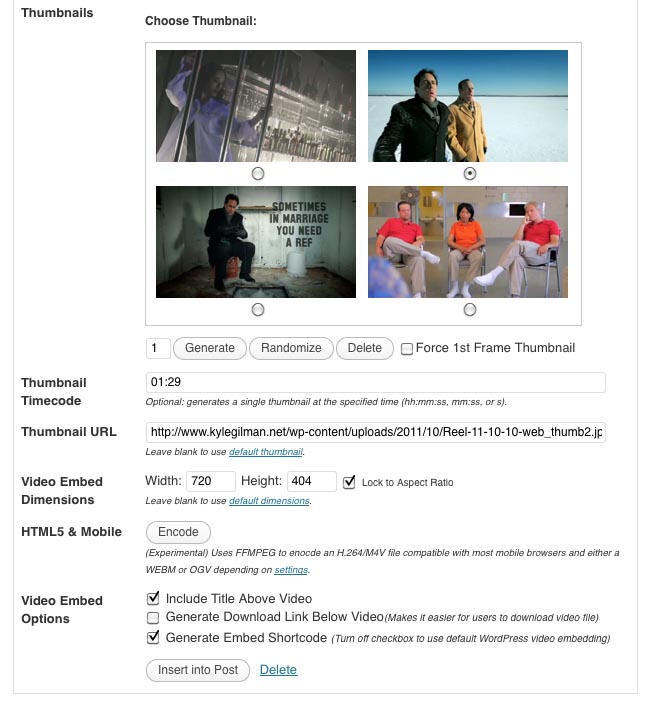 In January I made a plugin for WordPress that generates thumbnails for videos posted online, and the proper HTML & JavaScript codes to embed those videos in a webpage. It has come in handy many times when I want to show a work-in-progress to a client, post dailies, or just embed a video on my blog. Writing it really helped me get a handle on the whole HTML5 video thing, which in summary is a big ugly mess.
The first version was really crude because I couldn't figure out how to hook in to the WordPress Media Library, but it worked well enough for my purposes. I always wanted to go back in and make it more user-friendly, so for the past few weeks I've been revising the plugin to tap in to the built-in uploading and media management systems. Big thanks to Andy Blackwell for posting his great tutorial on the very important attachment_fields_to_edit hook. I learned a lot more about the WordPress plugin system, and finally put the plugin in their directory, which forced me to learn a few things about SVN, which is a clever if initially baffling system.
Anyway, I highly recommend the new version of this plugin if you're doing any video embedding on your WordPress site. You don't need FFMPEG if you just want a good system for posting videos you have hosted on your site, but if you do have FFMPEG on your server, you'll get thumbnail generating and automatic HTML5/iPhone-compatible file encoding. It's pretty neat.