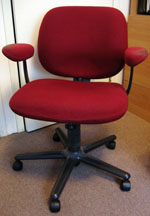 My mother bought me this $60 used purple foam desk chair my freshman year of college, and I kept it for 10 years. It was quite comfortable, but the springs were so worn out that it was almost impossible to keep it level. So I recently went on a quest to find a replacement that wouldn't break the bank. Since most of you reading this are sitting on office chairs, I thought I would share some of the things I learned.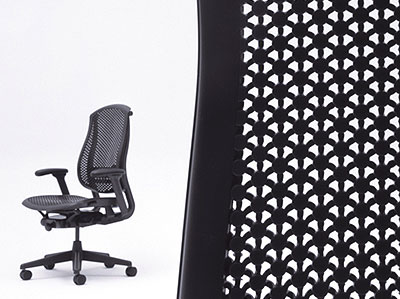 I started at the top. I've sat on my share of fancy chairs in fancy offices over the years, and I know how comfortable those Herman Miller chairs are. The Aeron is nice, but I spent this spring sitting in one of their newer and less expensive Celle chairs. Rather than a soft mesh they have an unusual network of plastic circles. Despite the harder look of it, it's really quite lovely to sit in all day. I prefer it to the Aeron. I went to Design Within Reach in Brooklyn Heights to check out the other fancy chairs available. The Humanscale Liberty won Slate's desk chair round-up a few years ago, and I can tell you it is quite comfortable as well. But at $1000 it was well out of my price range. Nothing at Design Within Reach was what I would consider "Within Reach" so I headed downscale.
I spent some time sitting on chairs at my local Staples, but nothing really felt sturdy and comfortable. It was also impossible to get a salesperson to help me out. I spent a lot of time online, and wasted a lot of energy trying to find an inexpensive all-mesh chair because I was sure that was the best option. I ended up ordering a Super Mesh Office Chair from Bizchair that was extremely solid, and well-constructed, but the metal frame around the mesh seat dug into the back of my legs because I was too short for it, and the mesh seat was surprisingly hard on the butt. The armrests also felt flimsy. They're adjustable in a way that never really locks in place and they always jiggled a little when I used them to move the chair.
So rather than disassemble it and pay for the round-trip shipping, I sold it on Craigslist to a much taller man, for a slight loss.
At that point I realized that it is in fact necessary to sit in a chair before you buy it. So I headed over to Office Furniture Heaven on 19th St. in Manhattan. I spent about an hour moving from chair to chair, experimenting with every combination of mesh, foam, and mesh-foam. There was an inexpensive all-mesh Raynor Apollo chair with a plastic frame that appealed to me, but even though it had an adjustable-depth back, the frame on the seat still dug into my legs a little. It seems like cheap mesh seats are not a good idea. I could imagine what it would be like in 10 years. I suspected it would not hold up as well as the old Purple Beast did.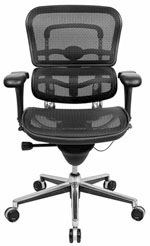 Although by that time I had settled on a $400 price cap, I did spend a lot of time sitting in a Raynor Ergohuman mesh chair. It is highly adjustable, comfortable, stylish, and feels like it will hold up well under lots of sitting. MSRP is over $1000, but you can get it online for less than $500. I probably would have bought the Ergohuman if Raynor didn't also make an Apollo chair with a foam seat. It combined a surprising amount of adjustment with a comfortable seat and a $215 price-tag. In addition to the usual seat-height adjustments, there are very simple back-height, back-depth, and seat-tilt adjustments. The seat even tilts forward if you like that sort of thing. I've had it for about a month now and I'm very happy with it.