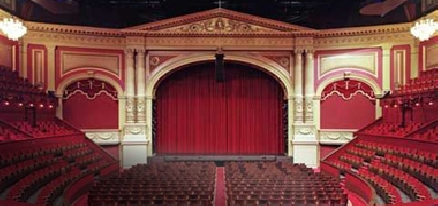 I arrived in Amsterdam last Wednesday morning and promptly slept until the early afternoon. I got up in time to attend the full dress rehearsal of La Commedia at Carré, which was very exciting. I sat very high up in the theater, which is shaped like half a bowl. The video I edited looked terrific. The HD projection on the main screen looked as good as film as far as I'm concerned. And it wasn't even a particularly fancy HD projector.
Then the next day I slept until 2pm, walked over to the Vondelpark, walked back, and got dressed up for the premiere. I got to sit in the Queen's box, which are of course the best seats in the house. The Queen was in attendance, but it wasn't an Official Visit, so she didn't sit in her box. Some of the people involved in the show got to meet her afterward, although I did not. Of course, she's not my Queen anyway. I certainly didn't vote for her. I got to go up and bow at the end of the show. I heard a few boos when Louis (the composer) came up, which apparently he was quite happy about.
I've managed to find two English reviews of the show. One from Bloomberg, who says that there were television crews and red carpets and whatnot. I think I arrived late, or early, because I didn't really see anything like that going on. The other is from some sort of music blog. Both reviews are pretty positive. They both mention the extreme difference between what Louis says is going on during the show, and what Hal says is going on during the show. I thought that was what made the show exciting. There were two lightly connected stories being told at the same time. They were both inspired by Louis' music, and they relate to each other, but they aren't the same thing. Update: I found a blog post in Dutch from someone who (according to the Google Translator) didn't understand a bit of it, but loved it anyway. That's the only way to experience it in my opinion.
Now I'm back in Brooklyn, although I might be off to Rome in a few weeks to edit a feature! More on that if it happens.